Details
Komplektas Pro-Ject Juke Box S2 Patefonas bei Pro-Ject Speaker Box 5 S2 2-Jų Juostų monitorinė Kolonėlė | Nemokamas Pristatymas
Juke Box S2 Patefonas
Audiofilinis "All-in-one Plug & Play" Patefonas
Perfectionised: Acrylic platter, Pick It 25A Cartridge
Building on the ground breaking Juke Box E, Juke Box S2 is taking the first audiophile all-in-one system to the next level. By changing to a more sophisticated acrylic platter and an upgraded, Pro-Ject proprietary, cartridge we gave the Juke Box the extra bit of audiophilia it deserves. Juke Box S2 effectively saves space by implementing a pre-amplifier and power amplifier in its chassis. With the rated 50 watt per channel, you will be able to connect your stereo speakers and you are ready to enjoy your records.
Juke Box S2 doesn't stop at playing vinyl though, you will also be able to connect your smart devices via Bluetooth and listen to your music wireless. On top of that, another analogue input can be found on the back side of Juke Box S2. Simply connect an external source (e.g. a CD Player) and use Juke Box S2 as an amplifier for your speakers.
The Juke Box Highpower Supply is optionally available. It features up to 50% more peak power output, increasing dynamic and bass response. The true ground connection over a 3 pin power plug can dramatically reduce hum and noise under critical power conditions.
Savybės
Instant playback with super-easy setup
Bluetooth and 1 line input
Acrylic platter
High contrast display on top
Line record output
Gold plated sockets
Pre-adjusted tracking force & anti-skating force
Pick it 25A cartridge, pre-mounted
8.6" aluminium tonearm with sapphire bearings
Belt drive with silicone belt
Low vibration synchronous motor & DC power supply
Special feet for effective decoupling
IR remote control included
Colour options: walnut, eucalyptus
Techninės Specifikacijos
| | |
| --- | --- |
| Power output | 2 x 50 Wats (4 Ohm) |
| Outputs | Speakers, Line out (fixed), Variable Out, Phono out |
| Inputs | Bluetooth, 1x Line (analogue) |
| Speed | 33, 45 (manual speed change) |
| Principle | Belt drive |
| Speed variance | 33: 0.8% 45: 0.7% |
| Wow & flutter | 33: 0.29% 45: 0.27% |
| Platter | 300 mm acrylic |
| Main bearing | Stainless steel in bronze bushing |
| Tonearm | 8.6" aluminium |
| Effective arm length | 218.5 mm |
| Overhang | 22.0 mm |
| Effective tonearm mass | 8.0 g |
| Counterweight for mass | 3 - 5.5 g (pre-mounted) |
| Tracking force range | 0 - 25 mN (18 mN pre-adjusted) |
| Included accessory | Power supply, dust cover, remote control |
| Power consumption | 150 W max |
| Dimensions | 415 x 118 x 334 mm (WxHxD) |
| Weight | 5 kg net |
Apdovanojimai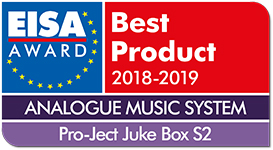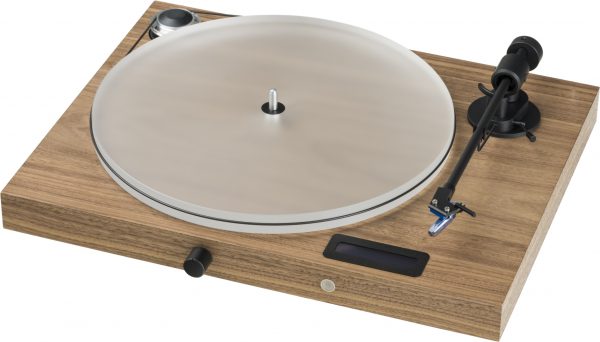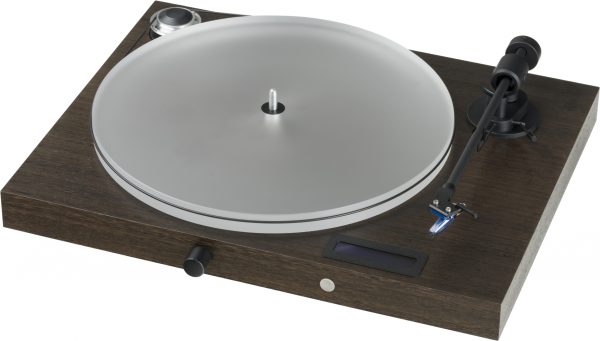 Speaker Box 5 S2 2-jų juostų Monitorinė Kolonėlė
Kompaktišas dviejų juostų kolonėlė
Reference bookshelf speakers made in Europe!
The Speaker Box 5 S2 is characterized by its spacious and detailed sound. A 25 mm silk dome tweeter delivers cristal clear highs, the 130 mm fiberglass cone gives full-bodied and lush mids as well as punchy and tight bass.
The noble wooden chassis come in three high quality wooden finishes: walnut, eucalyptus and rosewood. The Speaker Box 5 S2 is manufactured only with the highest quality materials and to 100% in Europe. Only high quality materials were used when Speaker Box 5 S2 was created. A very special, restistant and ecofriendly glue has been used to hold the cabinet together and to avoid any leakage.
The recommended amplifier power is rated between 10 – 150 watt RMS, where it applies as for every speaker: the higher the power of an amplifier the less distortion can be found at lower volumes. Amplifiers with less power are driven to their limits faster at lower volumes, while having more distortion when reaching their peak, this can harm any loudspeaker!